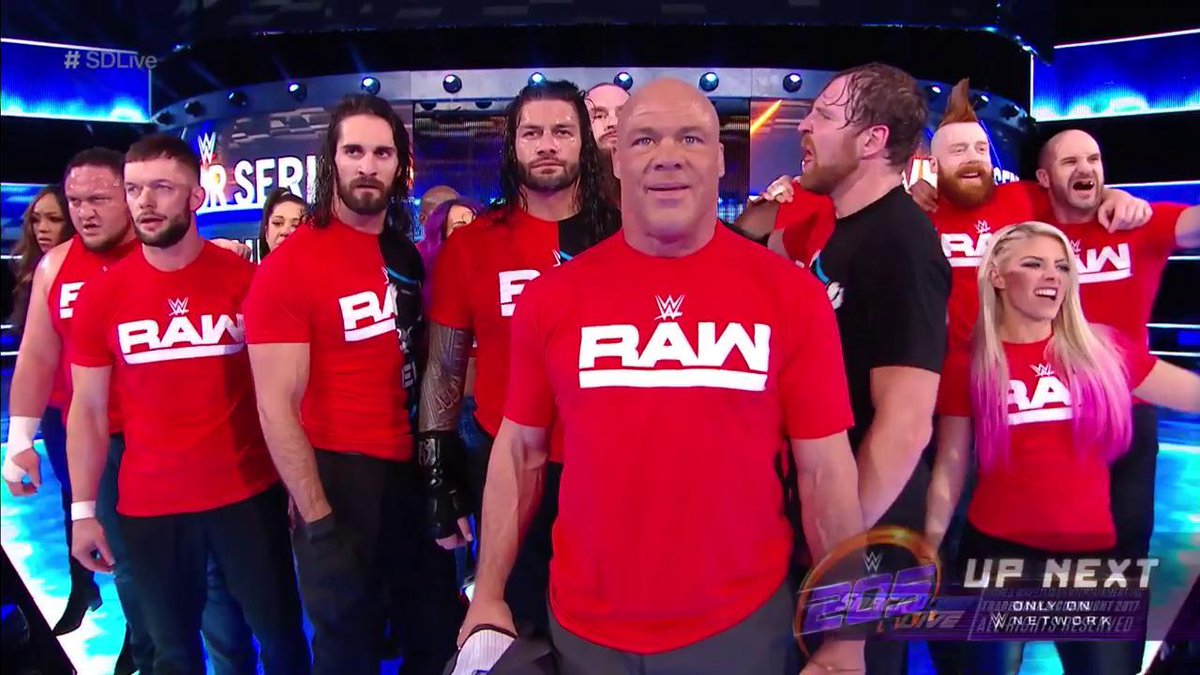 The final WWE show before Survivor Series was loaded top to bottom with big segments and title matches. It is nice to see them give some juice to Smackdown and try to increase interest heading into a major pay per view.

Shane pumping the locker room up worked for me. Yes, it was the same terrible scripted promos we are all used to. Something about Shane pumping up the troops like a football coach before a big game came off as genuine. The whole locker room had a unity vibe going, as well as a teaser for a Raw invasion later in the evening. 

Daniel Bryan got out his flamethrower and ROASTED Brock Lesnar. Bryan held nothing back, calling Brock a quitter and built Styles as a credible threat. Styles vs Lesnar feels like a legitimate big PPV main event.

Baron Corbin vs Sin Cara hopefully ended this micro feud. The entire feud felt beneath where Corbin should be headed. If the US Title is to be taken seriously (maybe it isn't) Corbin needs quality challengers. The match had the right outcome with Corbin winning and going on to face Miz at Survivor Series was the right move. 

Charlotte beating Natalya after a good well worked match was perfect. Charlotte got the emotional win in her home town and cut a very emotional promo while holding the title. She reference her father Ric's poor health and how he couldn't be there for her big victory. Then this happened….
I'm not crying, you're crying.
The Uso's can cut one hell of a promo. There isn't anyone on the main roster as comfortable with their character as The Uso's are. Everything about them comes off as so authentic and natural. 
Kevin Owens ans Sami Zayn, fresh off getting sent home from the European Tour (I'm sill proud of them) teased some fireworks in their backstage promo. Their presence will be felt at Survivor Series. I'm thinking they cost Shane the 5 vs 5 men's match.
New Day vs Owens and Zayn was a good TV match right up until…Sierra Hotel India Echo Lima Delta, SHIELD! The mood changed when the music hit and The Shield showed up. Owens and Zayn perfectly abandoned New day just as Reigns, Rollins, and Ambrose rolled to the ring and attacked. 
Backstage, the Raw women's roster took out the Smackdown women. Alexa Bliss got the early advantage on Charlotte cracking her while she was still down on the ground. Great move by Bliss grabbing some major heat after Charlotte's emotional title win earlier on the show.
Back in the ring more Raw superstars invade including Braun taking everyone out. Eventually the show would end with multiple Shield triple power bombs to Shane McMahon. 
As much as I didn't like "under siege" a few weeks ago on Raw, I did enjoy this segment. There is something about The Shield that adds instant danger and edge to any situation. It wasn't perfect "1996 NWO" kind of perfect, but there was enough chaos to make the whole thing work for me.